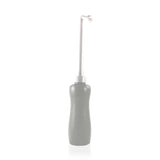 Happy Brand Company
Arctic Bay Gray Happy Bottom Portable Bidet
Do you want a Happy Bottom?

Happy Bottom is for home or travel. After using Happy Bottom , really, "You'll feel so clean!"
The cleaning experience will provide you with a fresh, out-of-the-shower feeling that will reduce your toilet paper consumption and leave you feeling amazingly fresh and clean throughout the day. An excellent design, simple to use and discreet.
What's better than using toilet paper to clean yourself? Water!

Happy Bottom has a specially designed angled nozzle sprayer to make cleaning yourself with water easy and effective. Water gets rid of bacteria, keeps you clean, and prevents infections. Washing with water is a proven method used all around the world to clean oneself, feel fresh, and not stink.
The 13.5 fl oz (400ml) slim bottle design is ergonomic and easy to hold. A travel bag is included, so you can take it anywhere in the world that your life takes you.
Who uses it?


Men, women, and children
Home bodies and those on the go
Postpartum moms (better than a traditional peri bottle. Easier than a sitz bath)
Women for feminine wash
World travelers
Athletes, campers and hikers
Women for feminine care
Elderly, post-surgery patients and individuals with disabilities
Simple. Easy to Use
Unscrew top of bidet and fill bottle with water.
     *Caution if using hot water*
Screw cap on securely and extend angled nozzle completely.
Invert the bottle gently.
Position the bottle with the tip facing the desired direction.
Squeeze bottle gently and repeat as desired.

Traveling? A soft travel bag is included. Retract nozzle, empty contents, and store in bag.